Everybody loves a man that can cook. No matter if you're great in the kitchen or can barely make 2-minute noodles, we've got your back with some of the easiest recipes you could possibly cook that will make it look and taste like you're a pro. All recipes yield 2 servings.
---
Chicken Stuffed with Herby Mascarpone
Ingredients:
3 tbsp mascarpone
1 tbsp finely chopped rosemary
1 garlic clove, crushed
2 chicken breasts, skin on
4 slices prosciutto
Splash of olive oil
Juice of ½ a lemon
Method:
Preheat the oven to 200C.

Mix the mascarpone with rosemary, garlic and seasoning to taste.

Lift the skin of the chicken breasts without detaching. Put a spoonful of

mascarpone under the skin of each breast.
Wrap each breast in 2 slices of prosciutto as neatly and tightly as you can to

enclose the filling.
To a pan add the olive oil and quickly brown the chicken on both sides.

Transfer to a roasting tin and bake for 15-20 minutes.

Add lemon juice to the roasting tin and stir while tin is still hot, scraping off any

crispy bits.
Plate and spoon the juices over the chicken. Serve with potatoes and green

beans.
---
Honey Soy Glazed Salmon
Ingredients:
340g skinless salmon
1 tbsp olive oil
Marinade:
4 cloves garlic, minced
2 tsp ginger, minced
½ tsp crushed red pepper flakes
1 tbsp olive oil
⅓ cup soy sauce
⅓ cup honey
Method:
Place salmon in a sealable bag or medium bowl.

In a small bowl, mix marinade ingredients.

Pour half of the marinade onto the salmon. Set the other half aside.

Marinate the salmon in the fridge for at least 30 minutes.

Heat olive oil in a medium pan. Discard the used marinade and add the

salmon to the pan. Cook on one side for 2-3 minutes then flip and cook on the other side for a further 1-2 minutes. Remove from the pan.
Pour the remaining marinade into the pan and reduce.

Serve with the sauce and a side of veggies.
---
Cheesesteak Stuffed Peppers
Ingredients:
2 bell peppers, halved
½ tbsp vegetable or olive oil
½ large onion, sliced
225g mushrooms
Salt and pepper
340g sirloin steak, thinly sliced
1 tsp italian seasoning
8 slices provolone cheese
Fresh chopped parsley to garnish
Method:
Preheat oven to 160C.

Place peppers in a large baking dish and bake until tender, about 30 minutes.

While the peppers are baking, heat oil in a large skillet over medium-high

heat. Add the onions and mushrooms and season with salt and pepper. Cook until soft, about 6 minutes.
Add the steak and season with more salt and pepper. Cook, stirring

occasionally, for 3 minutes. Stir in the italian seasoning.
Add a slice of provolone to the bottom of each baked pepper and fill with the

steak mixture. Top with another slice of provolone and bake for about 3 minutes or until golden.

Serve garnished with fresh parsley.
---
Penne Alla Vodka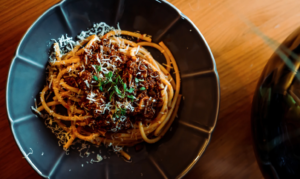 Ingredients:
1½ tbsp butter
½ shallot, minced (if you don't have shallots you can also use ½ a small red onion)
1 clove garlic, minced
¼ cup tomato paste
¼ tsp crushed red pepper flakes
1 tbsp vodka
Salt
230g tube pasta
¼ cup heavy cream
¼ cup grated parmesan, plus more for serving
Basil for serving (optional)
Method:
Melt butter in a large skillet over medium heat. Add shallot and garlic and

cook until soft (about 4-5 minutes), stirring frequently.
Add tomato paste and red pepper flakes and stir frequently until paste has

coated the shallots and is beginning to darken (about 5 minutes).
Add vodka and stir to incorporate. Take off the heat.

Cook pasta according to package directions. Save 2 cups of pasta water

before draining.
Return sauce to medium heat and add a ¼ cup of pasta water and heavy

cream, stirring to combine.
Add half of the parmesan and stir until melted.

Turn off the heat and stir in cooked pasta. Fold in remaining parmesan,

adding more pasta water if the sauce looks too dry.
Season to taste and serve topped with more parmesan and torn basil leaves.
---
Buffalo Cauliflower Tacos
Ingredients:
½ head of cauliflower
48g flour
90ml milk
½ tsp paprika
1 tsp garlic powder
½ tsp salt
¼ tsp pepper
30g hot sauce
1 tbsp vegetable or olive oil
½ tbsp honey
Tortillas
Method:
Preheat oven to 230C.

Break the head of the cauliflower into florets.

In a large mixing bowl, combine flour, garlic powder, paprika, salt, pepper and

milk.
Add cauliflower florets to the batter, making sure each piece is evenly coated.

Transfer to a parchment-lined baking sheet and bake for 20 minutes, flipping

halfway.
In a small mixing bowl, combine hot sauce, vegetable oil and honey. Brush

the mixture onto the cauliflower and bake for a further 20 minutes.
Serve on warm tortillas with desired toppings (we recommend guacamole and

salsa).
---